Regular price
$1,799.99 USD
Regular price
Sale price
$1,799.99 USD
Unit price
per
Sale
Sold out
Product Description :

This product creates additional internal cabin volume by increasing the amount of usable lateral space towards the rear of the vehicle.  Included with your purchase of the Sprinter Capsules are the primed & unpainted driver / passenger capsules, three tubes of urethane, as well as all the necessary hardware for installation.  
Fitment: Sprinter 144 2008+
Product Features: 
Driver-side Capsule provides roughly 6.5" of additional space (5.75" w/ Trim Kit)

Passenger-side Capsule provides roughly 5.0" of additional space (4.5" w/ Trim Kit)

Capsules provide an approximated total increased lateral dimension of 11.5" in the affected areas 

Capsules provide an approximated total increased lateral dimension of 10.25" in the affected areas if used in conjunction with the Capsule Trim Kit (sold separately)

Capsules are constructed from FRP w/ a primer-coated finish

Capsule were designed using a combination of CAD & professional drafting equipment for precise dimensioning & fitment

Manufactured in California
CAPSULES COME IN A SET (1 DRIVER X 1 PASSENGER)
See our step by step install video here:

View full details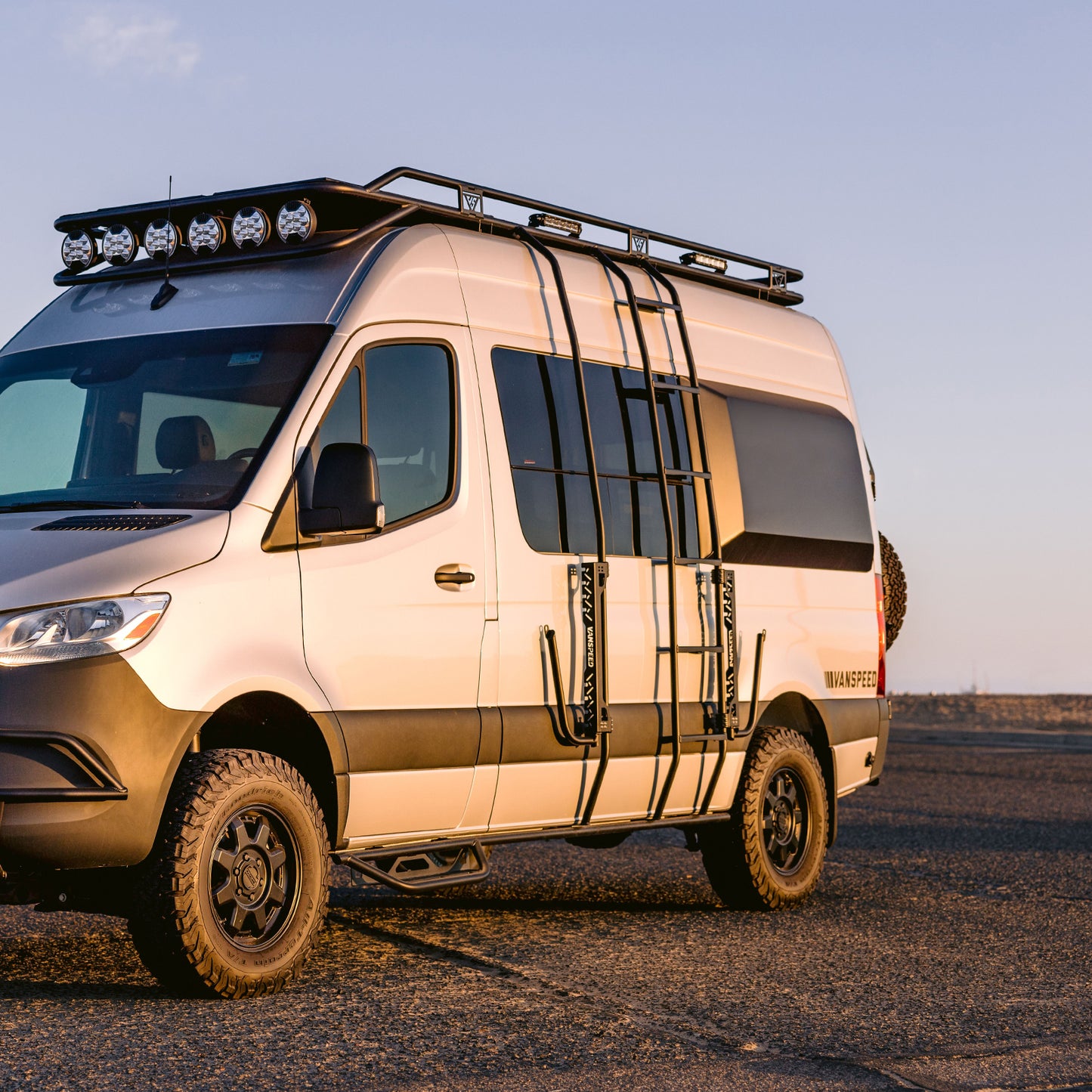 HOW EASY IS IT TO INSTALL CAPSULES?
See our step by step install video below:
CUSTOMER REVIEWS & EXPERIENCES
144" Capsules
Item showed up well packaged and in great shape. Very little prep work needed to paint. Install went smooth and easy and the capsules look great and the extra inside space is awesome!! Great product and would buy again!
Love these things!
So far I've got on of my capsules in and it's great. Love the look and extra length I get for sleeping. I've ordered my sergsupply trim rings, walls and ceiling and am looking forward to getting it completed. The only thing I had a lot of trouble with is the sealant and primer. The primer was hard to find and when I found it, it was expensive for a tiny bottle. The sealant that comes with them I left overnight in the van on a moderate temperature night and I couldn't get the sealant out of the tube for the life of my. I went through 3 manual caulking guns, and then I went and bought an electric one. None of them could squeeze this stuff out. I think on the next one, I am going to warm up the sealant somehow and hope it comes out of the tube. All in all a beautiful product. Very pleased.
Capsules work seamlessly
I've been going back and forth between the capsules or the flairs and I am so glad I went with these. They give us more room than the flairs and look great.
Great service
Called with a question about how to install and they were happy to help.
WHAT SETS US APART
EASY INSTALL

Step by step intructions for a seamless installation process.

PRECISE ENGINEERING

We take pride in engineering, sourcing and testing the products we offer.

TRUSTED PRODUCTS

Our products at the Van Mart are trusted by some of the top builders in the U.S.