Regular price
$775.00 USD
Regular price
Sale price
$775.00 USD
Unit price
per
Sale
Sold out
The Xantrex Freedom XC 2000 Inverter/Charger offers premium performance in a lightweight compact package. This inverter/charger provides up to 2000 watts of continuous utility grade, sine wave power from a battery bank and is designed to handle loads such as microwave ovens, TVs, DVD/Blu-ray players, and power tools. In addition, the Freedom XC 2000's extended 2 second high-surge capability lets you handle many hard-to-start loads, including full size residential refrigerators.

When AC power is available, the Freedom XC 2000 can operate as a 12 Volt battery charger. Different battery types and chemistries require different charging voltage levels, and not charging batteries at the required levels can shorten battery life or damage the batteries. The Freedom XC 2000 is configured at the factory with optimized charging algorithms to work with the battery types recommended for inverter applications. If the default settings do not work for your specific installation, you can adjust the charge stage settings through the inverter/charger's custom battery settings menu.

The Freedom XC 2000 also has a built-in 30 Amp transfer switch that automatically transfers between inverter power and shore power from recreational facilities such as boat docks or campsites to ensure power is always available. If incoming shore power is interrupted by external events like brownouts, the Freedom XC 2000 automatically becomes an independent power source that supplies utility grade AC power to your loads.

The Freedom XC 2000 offers comprehensive built-in protection features to safeguard your batteries from unnecessary drain while protecting your equipment. Features include selectable low battery shutdown voltage, low voltage shutdown delay timer, power save mode, low battery voltage alarm and shutdown. The Freedom XC 2000 is also features configurable AC transfer speed, output frequency, and voltage, making it extremely versatile.
Product Features
2,000 watts continuous power output
4,000 watts surge (peak power)
Extended 2 second surge for motor loads
True sine wave output for sensitive electronics and motors
Configurable AC output frequency and voltage
Built-in automatic 3-stage temperature compensated battery charger with optimized charging algorithms
Programmable Smart Battery Management logic to facilitate extended battery use & life
Built-in 30 Amp transfer relay
AC hardwire or plug directly into the optional 20A GFCI receptacle
Easy access AC & DC wiring compartment with quick connect terminals for easy installation
Digital display for viewing AC & battery current
Power share feature to prioritize AC loads
Configurable ignition lockout feature helps to minimize battery drain
Full output from -4°F - 104°F for operation in all climate temperatures
ETL listed to CSA 107.1
UL458 and UL458 Marine Supplement (drip shield with product number 808-1050 required)
ABYC E11, A20, A25 and A31
Protection Features
Battery low-voltage protection (user selectable from 10.5 to 12.8 VDC)
Battery over-voltage protection
Automatic overload protection
Over-temperature shutdown
Short-circuit protection
Ground-fault protection
View full details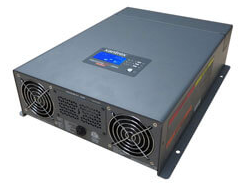 Xantrex Freedom XC 2000 Inverter/Charger
Ordered from the van mart. Got the Xantrex Freedom XC 2000 Inverter/Charger installed in my Sprinter, which I use for hauling expedited freight all over the USA. I'm living out of the van for month's at a time, and it has worked beautifully. Can recommend!
WHAT SETS US APART
EASY INSTALL

Step by step intructions for a seamless installation process.

PRECISE ENGINEERING

We take pride in engineering, sourcing and testing the products we offer.

TRUSTED PRODUCTS

Our products at the Van Mart are trusted by some of the top builders in the U.S.